Description
This system is safe and effective for all hard-to-train pets. Easy setup via wireless pairing, no more digging and burying wires that would probably take hours. Beep tone alert and progressive static shock correction once the dog goes beyond the preset range.
It has an adjustable operating distance, making it the perfect fit for tight spaces or uniquely shaped lots. So, relax. And let your pet make the most of your (not-so-square) yardage.
Wireless Dog Fence Features:
Wireless Boundary: A wireless boundary allows you to create a secure barrier around your yard to protect your pets without the time or hassle of burying wires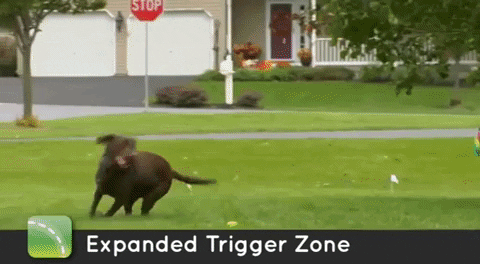 New Design:Wireless dog fence will create a cordless boundary with adjustable levels max to 500 feet, which can limit your dog. If the dog exceeds the activity range, beep and electric static shock will start. After several times of training, your dog will know how to act in designated areas.
Multi Dogs System: Including Two receivers. Our transmitter supports several receivers, if you have a large dog family, don't worry we've got you covered!
Safe & Stability: The shock is 100% safe to your dog as long as it is at least 10 pounds. The strength of shocks has been evaluated by Dog Training Specialists around the world. It is safe and comfortable for your Best Friend.
Ultra Durable & Waterproof: We know how destructive pets can be. The waterproof collar allows your dog to play on the wet lawn and even run on rainy days.
Plug and Play Setup: Plug-In the Receiver and Adjust the Size of the Radius, Put the Collar On Your Pet and It's Ready to Go! It's Always Recommended You Train Your Dog To Learn their Boundary.
Adjustable Range: Its long-range distance gives your pet more room to run and play. The max control radius of the wireless pet fence with the center of the transmitter is 500ft. Adjust the signal intensity by pressing "+"/"-" at the range of 1-100 levels. Allowing you to give your pet the freedom and security they need, and you the convenience of setting up your wireless dog fence anywhere.
Portable: It has two power supplies, you can leave it stationary, plugged into the wall, or if you'd like to use it portably for traveling, you can unplug it and bring it with you. The wireless dog fence perimeter will remain up and active even when used portably because of the backup power supply.
Rechargeable: Do not worry about the battery exhausted. The receiver collar can be recharged in three hours and it will run for up to 2 days.
Adjustable Coller Size:The length of coller can be adjusted to make your pet much more comfortable.
Package:
1 x Wireless Transmitter
1/2/3 x Wireless Receivers
1/2/3 x Neck Straps
2 x DC-USB Charging Cable
1 x Power Adapter
1/2/3x 4-Pack Metal Contact Probes
1/2/3 x LED Test Light
1/2/3 x 4-Pack Plastic Anchors
1 x User Manual